Top 6 Free Video Editing Software for PC
Software Reviews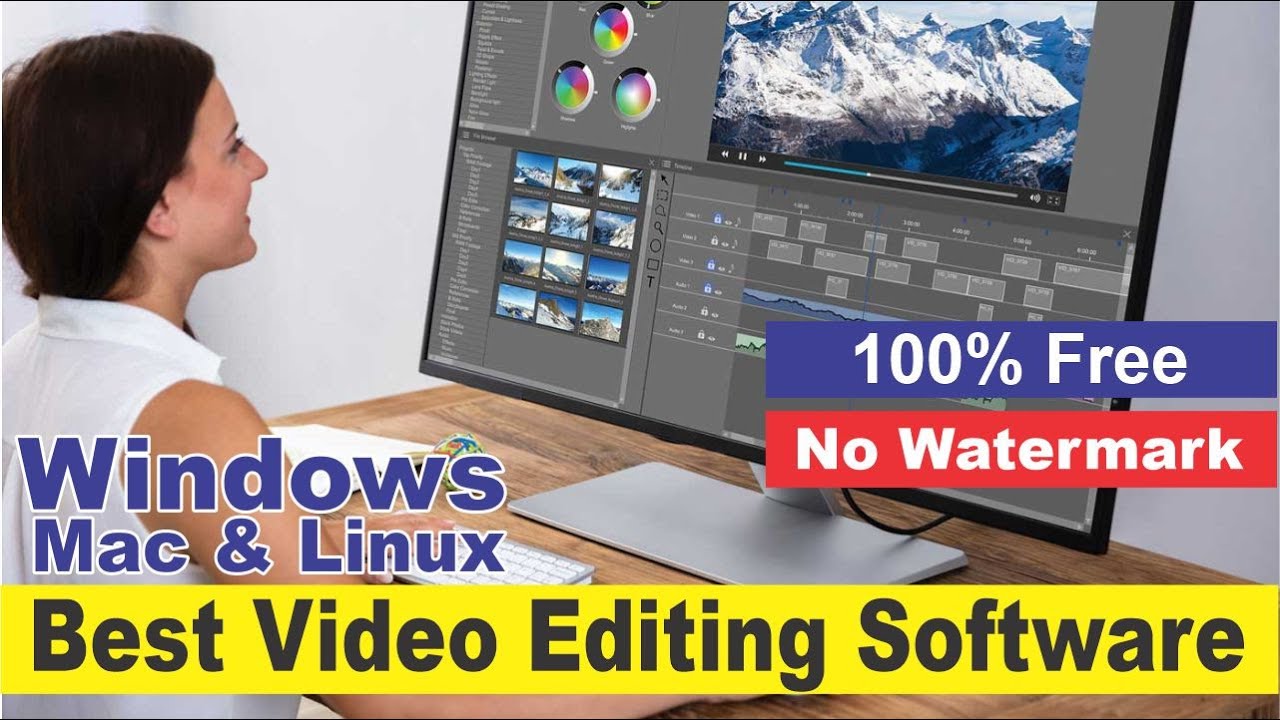 Top 6 Free Video Editing Software for PC
YouTube has more than 2 billion active users and over quarter of the world's population use YouTube every month. There are 5 billion videos watched every day so there is no denying that YouTube is one of the most powerful marketing tools you can use to promote your content or product.
Question is that how can you create your videos in such a way that these would attract more and more viewers. Video editing is something that can make your video engaging and increase the viewership many folds.
There is increasing number of Asian content makers that are making money on the YouTube by creating great video content on daily basis. Those who are already making money do not face problems while editing their videos by professional software as they can afford to pay.
However, new users trying to make new videos are always looking for free quality video editing software for YouTube that are professional, without any watermark or without any limits and most importantly is free of cost. It's important that they get software that is free without any subscription fee or without resorting to the illegal option of a crack.
Below we are going to introduce you with free video editing software options that can help you make your videos more attractive and increase the viewership.
1. VSDC Free Video Software
Vsdc is a professional video editor with multiple editing functions to make your video better. You can add effects, create a movie, crop, trim and split, add effects, add text or even create animations as well. You can create 4K videos and Vr360 videos with the help of this brilliant software. It's completely free of cost and does not cost a thing.
VSDC Official Website Link:- https://www.videosoftdev.com/
2. OpenShot Free Video Software
OpenShot is an award winning free and open source video editor that can be used for all platforms such as Linux, Mac and windows. You can add powerful curve based key frame animations, add tracks, resize the clips, scale, trim, snap, rotate and cut the clips. Remove watermarks, add image overlays, add titles or sub titles, slow motion and animation etc. Many professional YouTube users use this software to increase their viewership.
OpenShot Official Website Link:-
3. Windows Movie Maker 10
Windows Movie Maker is so simple and yet so powerful that it can address your entire movie making requirements. It is especially useful for those who have an underpowered PC without a huge ram to support heavier software. You can quickly learn the tricks and trades and play with full HD videos, add background music, add text, photo overlay, trim, fade, slow motion and trim or join the videos. Best thing is that you can use it for free.
Windows Movie Maker 10 Official Website Link:-
https://www.microsoft.com/en-us/p/movie-maker-video-editor/9mvfq4lmz6c9
4. Blender Video Editing
Blender is incredibly powerful video editing software that provides you hundreds of video editing options for free such as sculpting, modelling, animation and rigging, rendering, simulation, video editing, video cuts, splicing, colour grading, syncing and visualization. It is open source software so can be used on all three platforms such as Windows, Linux and Mac. Please keep in mind that this might be a little difficult to use but can produce extraordinary results.
Blender Video Editing Official Website Link:-
https://www.blender.org/features/video-editing/
5. iMoive For Mac
iMoive is industry leading video editor for Mac users who can use it for free. It can accommodate beginners and professionals alike with free technical support available all the time. It is one of the most comprehensive software in the market with features like crop, split, rotate, adjust speed, audio edit and PIP effects. There is so much more that you can do with the help of this software to make your videos better. There is no watermark, no subscription and no limitations with this software.
iMoive For Mac Video Editing Official Website Link:-
6. Shortcut Free Video Software
Shortcut is a free video editor that can be used for cross platforms such as Windows, Linux and Mac with some incredible features such as 4K videos, crop, trim, timeline editing, colour, text, counter generators, rotation, fade in and out, video filters, speed effects etc. It is especially very useful for YouTube editing and is absolutely free.
So these were the top 6 free video editing software that are available to you anytime. If you are new to this trade and would like to increase the viewership of your videos then this is the best thing that you could do to use those video editors for free to make the videos look and sound better and increase the viewership. It is easy to learn and understand the use of software but if you take some classes then you can understand the complete functions of this software and can make a huge difference in results.
Shortcut For Mac Video Editing Official Website Link:-