WhatsApp Last Seen Hide WhatsApp Tricks 2022
Offline Chat for WhatsApp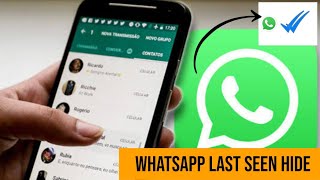 WhatsApp Last Seen Hide
For the current generation of phone users, WhatsApp is a lifeline they cannot imagine to live without. It is the simplest form of communications that let you keep in touch with family and friends and work related people as well. It is necessary not only for your personnel life but your professional life as well.
However, this useful application also comes with some drawbacks that can be quite disturbing. Sometimes you do not want to let someone know that you have seen their massage but it is also important to see their massage. Take your boss for an example. If he send you a massage after work or on an off day. You certainly want to know what seems to be the matter but you do not want to do it when you are off work as boss will know you have seen their massage.
Great news is that we can show you how this can be done. Best thing is that it works on all type of massages and you can see text massages, audio massages and video massages without letting the sender know about it. Best thing is that we are not going to ask you to download any shadowy or illegal application. You can download the application from playstore.
One thing that you must keep in mind is that never ever open the massage from the WhatsApp notifications. If you do that then the sender would know that you have seen the massage. So this is very important that you do not click on the notification. You must use the application that we are about to share with you and check the massage from there. This way you can check the massage and the sender would never be able to know that you have seen the massage.
offline Chat for WhatsApp is a simple and free application that helps you read the incoming WhatsApp massages, voice note, images and videos without the last seen or blue ticks arrows. With this application the sender would never know that you have seen his massages. You can receive and reply without changing your last seen status, listen to voice notes, see pictures, save status, chat with the WhatsApp user without saving his number and make voice and video call without appear online.
All you need to do is download the application from play store and open the application. It would show you the massages that you have received in WhatsApp and you can read them from there without disturbing them in the WhatsApp. This way no status would be changed and no one will know that the massages are seen. You can click on the link provided above and start using the app.